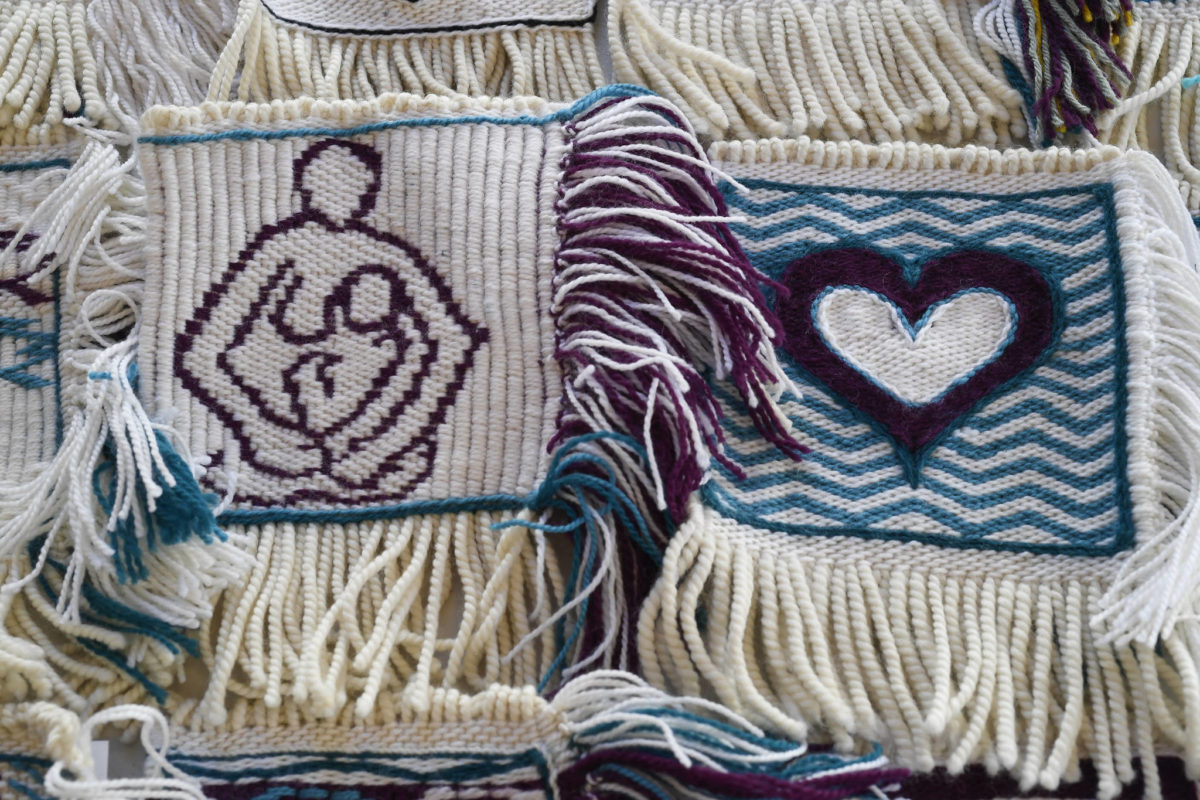 The Giving Strength Multi-community Collaborative Weaving
For domestic violence prevention and survival
Overview
Creating this together is motivated by the grief and survival many are feeling in regards to domestic violence in our women, our communities, and our nation. We weavers aim to come together to weave, to commune, and to bring strength to all involved.
Structurally, the robe will be 67" by 67," with up to 84 artists contributing original 5x5 inch weavings, and will be a combination of geometric Ravenstail and curvilinear Chilkat weavings, similar to the recently finished Weavers Across the Waters Community Robe, which was spear-headed by Clarissa Rizal — mother to two of the weavers/motivators on this new project.
Participating weaving artists live as far as Colorado, New Mexico, Oregon, and Washington; and cities in Southeast Alaska, including Ketchikan, Sitka, Juneau, Hoonah, Yakutat, Skagway, Wrangell, Anchorage, Prince of Wales Island; and reach up into Whitehorse and Teslin, Yukon Territory, Canada. Lead teachers/weavers in several of these communities assisted beginning weavers to execute their projects, with monthly in-person gatherings. These gatherings and classes ensured excellence in handiwork, and expanded our weaving community.
The top, bottom and side borders will be woven in Juneau, Alaska, inside the AWARE shelter, inviting residents and weavers to participate. We hope that the side borders will be collaboratively woven in at least two other communities, also within domestic violence shelters; this co-creation will bring strength and healing to the all involved.
The Giving Strength Robe will be finally assembled with all squares by mid October 2018 in Juneau, Alaska, and be permanently housed and used by the AWARE Shelter, in Juneau, Alaska.
The scope of this project is multi-layered, with healing and strength for our communities as the foundation for the work. In addition to holding space for healing, we'll be strengthening the Chilkat and Ravenstail weaving art forms, our community connections, our women, our children, and our nation.
Original Concept Conceived by Heidi Vantrease
Square CONTRIBUTOR REGISTRATION IS NOW CLOSED
Weaver registration to submit a 5x5" square is now closed, and finished the final weaving layout is being finalized. We are now holding space to weave the robe's borders, and weavers of all abilities are welcome to help assemble to final piece.
Weaver registration closed December 1, 2018
WEAVING GUIDELINES
Chilkat or Ravenstail design of your choice

10epi WHITE Ravenstail or Chilkat warp (Ravenstail warp included in full-size kits)

5"wide by 4.5"high woven design-field (not including white rows on top and bottom)

1/2" top margin above design-field, measured from bottom of loom header bar, includes folded warp loops and white snow rows/white pattern

1/4" bottom margin below design field of woven white snow rows/white pattern

Folded warp and all woven areas should total 5" wide by 5.25" high

2"+ of warp fringe at the bottom

3" + of white weft fringe on the RIGHT-HAND SIDE ONLY. False fringe necessary on Chilkat pieces

Do NOT add false fringe on the left-hand side of your weaving

MUST incorporate mailed kit colors of PURPLE and TEAL in design field

You may use any other non-kit colors in addition to the purple, with SPARING USE of black.
Original Concept Conceived by
Heidi Vantrease
Project Organizers
Lily Hope • Ursala Hudson • Deanna Lampe

assistants
Patty Fiorella • Chloe French • Catrina Mitchell • Stephany Anderson • Vanessa Ægirsdóttir